Bradford holds light agenda meeting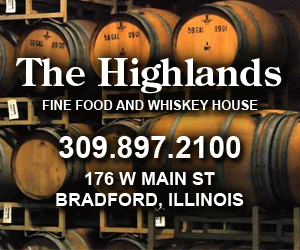 By John A. Ballentine
[email protected]

The Bradford Village Board held its regularly scheduled Monday evening monthly meeting on July 10. Only four action items were listed on the agenda for the board to discuss.

First, the annual "Betty Hoy Day" was that day, July 10 and was observed. Betty Hoy is now retired after decades of operating the Bradford Pharmacy service, which was located on Main Street, in Bradford.

The board approved the annual tax levy appropriations with the new numbers from the State now available. The board passed this item previously utilizing last year's numbers as a guide because the State was delayed in providing the appropriate updated numbers.

An advertisement will be placed in local newspapers for the hiring of another part-time maintenance employee for the village. Currently there are just two maintenance employees, headed by Supervisor James Chadwick. This is warranted due to an increase of workload in the maintenance department.

Among those duties is maintaining the village's water system and sewer system. Other jobs include mowing, snowplowing and general maintenance items concerning the village's upkeep.

The upcoming Labor Day Celebration was discussed and will be held Labor Day weekend, in September, on the first through the fourth day. The Labor Day Celebration committee is seeking donations to sponsor the annual car show during Sunday, September 3rd. Sponsorship of a class of classic and antique vehicles would be an individual trophy or plaque for each class of vehicle.

There will be games and two bands for entertainment available during the four-day event, plus the parade.
Not on the agenda, but discussed without action taking place was the possibility of two windmill electrical generating turbines being installed near Bradford. The windmills' location would tentatively be east of Bradford near Shallowbrook Farm. One structure would be just south of the roadway and the other one to the north of the roadway in what is now crop fields.

A public hearing concerning the windmills' possibility of being located within one and a half miles of Bradford will be on July 27, Thursday, at 6:30 p.m. at the Bradford Village Hall building. Leeward Energy representatives are expected to attend for the purpose of that discussion.

Next month's village meeting will be at 7 p.m., August 14, at the village hall building. At that time, the windmill proposal could be approved depending upon the results of the public hearing.