Two new county board members seated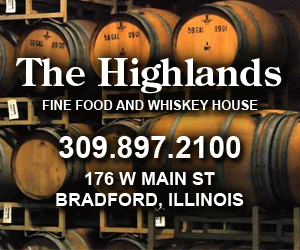 By John A. Ballentine
[email protected]

Two new county board members were sworn into office Tuesday, August 29, during a special meeting of the Stark County board. The newest members fill two vacancies created when former chairman Collen Magnussen and former vice-chairman Fulvio Zerla resigned their seats on the board last June.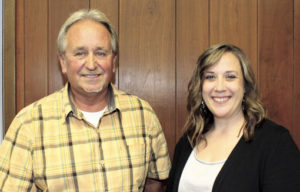 Kari L. Bush and Robin R. Nowlan are the newly appointed board members. Bush is a District One Republican and Nowlan is a District Two Republican. They will serve the two unexpired terms through November 30, 2018.

Bush, 36, is a nurse administrator with OSF, in Peoria. She resides in rural Wyoming near Speer with husband Keith and their three daughters, Jocelyn, 9, Jacie, 8, and Jaymeson, 2-years-old.

Bush explained about wanting to serve on the board, "I think it's a great opportunity to get involved with Stark County. The board needed some vacancies filled, so I was happy to step up and do my part."

Nowlan, 59, is an area farmer. He and wife Lorrie reside southwest of Toulon. They are the parents of daughter Ashton and son Alex, who are both grown and living on their own.

Asked why he wanted to serve on the county board, Nowlan responded, "I got asked by a lot of people. Obviously they needed some help. I figure I'll give it a few years. I certainly am not going to make this a career."

Nowlan brings 20 years of experience of being on the Soil and Water Board for Stark County. He has also spent 13 years on the Stark County School Board.

Bush and Nowlan join on the board Chairman Al Curry, Vice-Chairman Melissa Shipp, Tom Howes, Lynn Newton and Bill Loane. A recent development is that Robin Lindner has resigned from the board as of Friday, September 1. An additional article will accompany this one.

During the public comment portion of the meeting, Toulon's Police Chief Gary Bent, who also serves as a county sheriff's deputy, stated, "I've come here to talk with you about the upkeep of the county highway building. Toulon has city ordinances that prohibit the grass from not being mowed and weeds.

"It's at the junction of Routes 17 and 91 [in Toulon] and it just looks bad. It's kind of hard to enforce city ordinances when that's the centerpiece and the grass is overgrown."

Tom Howes said that this has happened because the highway department employees have been busy on road projects this year. Bent suggested hiring someone to do the mowing, if that is the case.

In other agenda items, discussion occurred concerning the amendment of impound of motor vehicles and the associated fees collected for such. The amendment would funnel the entire $500 fee into a special Sheriff's account instead of only $100 that is now the current policy. The other $400 is placed into the general fund presently.

This $500 fee per impound would be for sheriff's vehicles' equipment repair and the purchase of new vehicles when necessary. This subject will be addressed and possibly a resolution passed during the September 12 county board meeting.

Another discussed topic occurred concerning the Henry – Stark Counties Health Board agreement. Clarification is required concerning the insurance liability of the two departments and changes in health care. It is believed to be resolved in 90 days.

The Holmes Road project has been completed and the road is now open for travel. With no other business, the Special Meeting was adjourned. The September 12 regular monthly meeting will commence at 7 p.m. at the county's courthouse, in Toulon.