Freedom House protects abused, assaulted
"Nowhere else in the world to go"

By Jim Nowlan
[email protected]

When your drunken spouse or live-in slaps you around, or worse, time and again, where do you turn? If you live in Stark and neighboring counties, you can turn to Freedom House in Princeton for emergency shelter, legal advocacy, counseling, even a "new beginning," if that is what you need.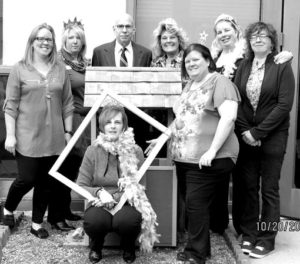 "Our clients have absolutely nowhere else in the world to go," says Michael Zerneck, executive director of Freedom House, since 1983 a shelter and more for victims of domestic and sexual violence (and their families).

In 2016, the 22 staff and 30 trained volunteers at Freedom House received 982 calls for help on their hotline, helped 84 victims of sexual assault and 495 persons who reported domestic violence, from young women and their children to elderly men.

This past week, The News visited the shelter and counseling/education center of Freedom House in Princeton. Located in a former children's home on a comfortable, tree-lined street in that nice town, Freedom House must seem a true port in a raging storm to those who can no longer take the abuse and violence inflicted on them.

"You would think if a person were hit once," observes Zerneck, "he or she would come right to our door. But often, the person has suffered for years before finally coming to Freedom House."

Why stay in such a relationship?

Many reasons, Zerneck says. The abused feel they have nowhere else to go. They may be dependent economically on their abuser. They may love their abuser, regardless, and he or she is often the parent of their children. For some immigrants, it is fear of the police and court system.

"Finally, they just can't take it any longer," Zerneck says.

The typical client at Freedom House is a woman, often with children, 18 to 35 in age. Ninety-five percent are living below the poverty line. They are often in chronically abusive relationships.

When started by dynamic Princeton community leader Nedda Simon, of Princeton, Freedom House served victims of domestic abuse. Later on, services were expanded to include victims of sexual abuse.

Why do people abuse their "loved ones"?

Zerneck says there is often abuse in the familial history of an abuser, that is, he or she lived in an abusive household growing up. It was the way things were done in the household, or so they observed.

Many men are brought up to believe that they must be the sole breadwinner, and when they find themselves without a job and unable to put food on the table, they might lash out in frustration.

Movies probably play a role as well, Zerneck suggests. "There are depictions of abuse all over the place," he says. But there is never any good excuse for domestic abuse, he stressed.

"In our five counties (Stark, Marshall, Putnam, Bureau, Henry), we have a higher per capita rate of abuse than you find in inner cities," declares Zerneck.

Why is there possibly more abuse in rural counties?

"Isolation, poverty, under- and unemployment, substance abuse," Zerneck explains.

"Drugs and alcohol are frequent collateral factors in our clients lives. People will 'self-medicate' with beer, meth, heroin, in order to address their problems." He added, "We may be less likely to know about abuse, as in rural communities houses are distant from one another."

What does Freedom House do to help?

Freedom House provides medical advocacy. When called, an agency staff member or trained volunteer will be at a victim's side at the hospital within an hour.

The advocate listens to the victim, brings a change of clothes, helps arrange whatever might be needed.

Legal advocacy is another major service. Freedom House advocates are often in court every day to help obtain orders or protection from abusers, says Zerneck.

Kathy Snow, who works out of Princeton, is the primary legal advocate for Stark County residents.

If ever you know someone who needs assistance, call 211, ask for the nearest abuse and shelter agency, and that information service will put you in touch immediately with Freedom House. They can be reached directly by calling their professionally staffed 24/7 hotline, 800-474-6031.

The shelters a port in the storm

Pam Busch, of Wyanet, is the veteran director of the domestic abuse shelter in Princeton. She gave me a tour.
"We have 11 clients at the moment," says Pam, who has a warm smile. "As you would expect, the numbers vary."
The afternoon The News visited, mothers and children were all out at work or school.

There are 32 beds for women and children (men may also the shelter if, say, an elderly man were physically abused by family members).

There are single rooms with private baths as well as small apartments, suitable for children and for longer stays. All are cheery and comfortable.

Kitchens are shared and clients are expected to prepare their own meals. There are separate refrigerators, one for each client family.

Corry Engelbrecht, of Peru, is in charge of the children playrooms, which are filled with colorful play things.
I saw a room with several computers as well.

Nice, safe place.

Pam explains that clients may stay in the shelter on an emergency basis for three weeks, though that can be extended.
A few clients are in transitional apartment settings for longer periods.

Counseling and life-skills education are available to clients and, very important to the Freedom House mission, educators are continually out in area schools and speaking to church groups and service clubs.

Private financial aid critical

All services are free. Financial support comes 85 percent from federal and state governments, the remainder from churches, service clubs, and individuals.

"We have former clients and supporters who send us checks for $25 or so every month, in gratitude," says Zerneck.

"We have an amazingly giving community. Only because of our private giving have we been able to stay open during the state budget crisis."

If you want to help Freedom House and learn more, go to freedomhouseillinois.org. They are holding a fund-raising gala at the Chapel Hill Event Center in Princeton, "GIMME SHELTER," to benefit Freedom House and its clients on Saturday evening, October 14. The website has information about ticket purchase and other ways people and businesses can contribute.
The folks there do good work for people who have nowhere else to go!