Colgan hired for city job
By Jason Musselman
[email protected]
Toulon Mayor Larry Hollis told the city council Monday night that he had hired Toulon resident Josh Colgan for the open water and sewer superintendent position. Colgan will start the position, previously held by Mike Richardson, on Oct. 23.
An upcoming fundraiser for Richardson, who is battling cancer, is planned on Nov. 12 according to organizers of the event. Orwig Auction Center will host the event and donations are being accepted at local businesses and the State Bank of Toulon.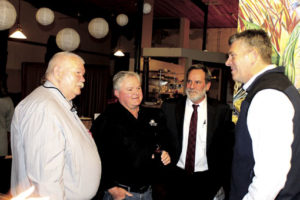 Hollis also told the council that two dilapidated properties owned by Jim and Connie Howell will soon be demolished. The city had filed court proceedings on the uninhabitable houses on E. Greenwood and E. Clinton streets, but the Howells say they have arranged for their demolition.
City attorney Bruce Fehrenbacher said that promise seems to wrap up the court filings and further action may not be needed.
Fehrenbacher also told the council of a new no soliciting ordinance he had compiled. Last month the council had discussed whether or not they could prohibit door to door salesmen. An ordinance from 1969 seemed to dramatically limit the soliciting, but Hollis did not think the wording in it was enforceable anymore and not all the rules were being followed.
The new language, as presented, would require a 30 day waiting period for anyone while the police department reviews the applicant for a criminal history. Certain offenses and registered sex offenders would be prohibited from being issued permits.
The presented ordinance would also allow for a "no knock" list which solicitors would be mandated to obey by. City residents could opt to be on the list if they prefer no solicitors visit them. A violation of the list and failure for the salesperson to leave would be a trespassing violation.
The council did not take action on the ordinance, but may consider it after reviewing.
In other business, the council voted to donate $500 toward the JFL program and purchase six new water meters for a total of $1,570.73.
Finally, Hollis stated that the Halloween hours for Toulon this year will be 5-7 p.m. again on Oct. 31. Businesses and individuals are invited to participate.