Gravestone Tales of Stark County
Three Essex Township soldiers died in Andersonville Prison–one used an alias

By Don Schmidt

The names of three Stark County Civil War soldiers are engraved on three faces of an obelisk in Stringtown Cemetery on Duncan Road in Essex Township. They were captured by the Confederate Army and imprisoned in the notorious Andersonville prison. Noah Fantz, Michael Springer and William Barr died at Andersonville and are buried in the Andersonville National Cemetery.

The three soldiers were all members of Company E of the 112th Illinois Volunteer Infantry. The 100 men from Wyoming and surrounding countryside who made up Company E were recruited in August and September 1862 by Sylvester F. Otman of Wyoming, Captain of Company E.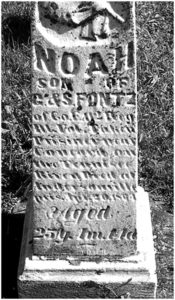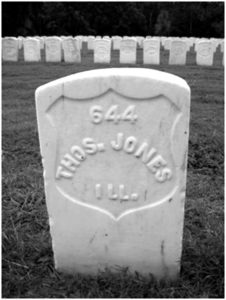 In 1885 Bradford F. Thompson of Toulon wrote a history of the 112th Illinois Volunteer Infantry. The 112th Infantry was made up of three companies from Stark County and seven companies from Henry County. Thompson's history was serialized in The Stark County News and published by The News in book form. This book is available to download from Google Books.

Thompson's research into the fate of Noah Fantz solved a mystery that would not have been solved otherwise. Namely, Fantz used an alias when he was captured. This is Thompson's biographical sketch of Fantz:

"Noah Fantz was captured at Park's Ferry, on the Holston River, E. Tenn., November 16, 1863. The Illinois Adjutant General's Reports report him as having died in rebel prison at Andersonville, April 18, 1864. The Supt. of National Cemetery at Andersonville reports that he cannot find this name on the prison records. He reports that Thomas Jones of Co. E, 112th Ill. died April 20, '64; No. of Grave 644. As there was no "Thomas Jones" in the regiment it may be that Fantz assumed the name of Jones when captured, and that No. 644 is his grave."

William Barr and Michael Springer are buried in Graves 526 and 1667 at Andersonville National Cemetery. Their Civil War headstone inscriptions read: "W. C. Barr, Ill.," and "Mich'l Springer, Ill."