Candidate party big success
By Jim Nowlan
[email protected]
Sixty or more folks filled the News Room Bistro in Toulon Saturday evening to sign petitions for Republican candidates for offices from county board and county officials to statewide and U.S. Congress posts.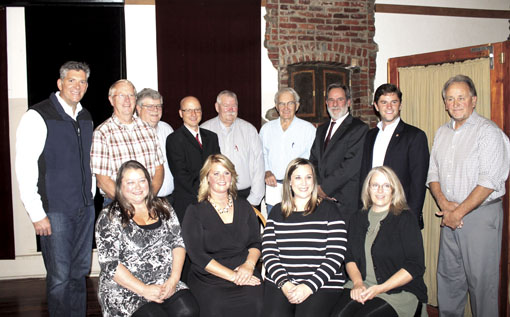 U.S. Rep. Darin LaHood, of Dunlap, and state Rep. Ryan Spain, of Peoria, were on hand throughout most of the evening, which included a groaning board of appetizers and refreshments, which attendees gobbled up with gusto. The party was hosted by county GOP chair Mike Bigger and wife Debbie, with others also contributing to the food and drink.
Special guests were retired state Rep. David Leitch and his longtime assistant Linda Daley, both of whom have been of great help to our county and its citizens for over two decades. Linda is continuing as legislative assistant to David's successor, Rep. Spain. By the way, Rep. Spain was a student of this writer, when I was teaching at the University of Illinois 15 years ago.
By law, some candidates need as few as 10 valid signatures while candidates for Stark County Resident Judge need a minimum of 500, so the event helped move candidates closer to or over their signature goals.
Petitions for those seeking party nomination are to be filed the first week of December. The primary nominations by political parties will be held March 20, 2018.
For any person seeking to become a candidate, petitions are available from County Clerk Linda Pyell.