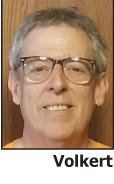 By John R. Pulliam

GALVA – Galva Mayor-elect Richard Volkert enjoys keeping busy.

He just completed a two-year term on the City Council. Before that, Volkert was the city treasurer for three years. He serves on the city's volunteer fire department and has been involved in the basketball programs at Galva High School.
"I like to stay busy," said Volkert, who retired from John Deere Harvester Works in 2017. "I enjoy doing things for people."

Married to his wife, Teri, a retired RN, the couple have a son who lives in Colorado and a daughter who lives in the Sherrard area. He grew up in Wisconsin, moving to Galva in 1973.

He's been treasurer at the fire department but has to give that up because some city and fire department money is commingled.

"I still want to stay on the fire department and help when I can," said the new mayor, who replaces two-term Mayor Rich Nordstrom. "I'd been on the school board for five years, then had to get off because of work commitments."

In his spare time, he rides his bike and walks around town, picking up garbage.

"I enjoy being outside," Volkert shrugged. "I just look forward to having the opportunity to work with everybody in town and on the council."
He's also involved in his church.

Volkert defeated M. Douglas Anderson in the April 2 election, 276-241.
"I want to be as visible at as many community events as I can," he said.
The new mayor will be sworn in during the April 22 City Council meeting.
But meetings will not be the only chance to speak with Volkert. It seems he's everywhere.

"I just think the more open you are, the less problems you have," he said during an interview Monday in Galva City Hall.

Draw on experience of others
Volkert said when he ran for City Council, there was a two- and four-year term open. He opted for the two-year term, which gave him enough experience to decide whether to run for mayor.

"I decided I had the interest and time to do it," he said. "I'm far from knowing anything, but you feel a little bit more familiar with things. I don't intend to hit the ground running. Hopefully, we can get a smooth transition."

Volkert spoke humbly about his role and the experience on the council.
"I look forward to them sharing their knowledge with me," he said.

What can be done to improve council meetings? Volkert would like council members to have more information going into meetings.

"I'd just as soon people ask the questions before we vote," he said. "I think it's important everyone knows what's going on."

What are the priorities in the Henry County community?
"Some of the downtown buildings, like in any small town, it would be nice to have them all full and running," Volkert said.

A realist, he knows that's not likely. He wants to preserve buildings when possible, saving them for future opportunities.

"Secondly, the council and the mayor, we have done some upgrades with the fire department funding," he said, "fixing up the station. We're talking about creating more space."

The third priority, Volkert said, has to do with Wiley Park, the home of the Levitt Amp Galva Music Series.

"There's been some talk about a permanent stage over there," he said. "And, probably the fourth (priority) would be to decide what we can do about fixing the streets."

Volkert said, "We allocated $500,000, but we don't have $500,000."
The allocation had more to do with what the state demanded than what Galva can currently afford. Asked if the state will help fund those repairs, Volkert said only to the extent of money the city receives in Motor Fuel Taxes.

"We have about $125,000," he said. "It just depends on what we can come up with. We've talked about doing some of the work ourselves (to save money). The city engineer has had an 8-year plan. We're about 75 percent through it."

When it comes to streets, things are no different in Galva than everywhere else.

"Everybody wants their street fixed first," the mayor-elect said. "We'll get as much done as we can afford."

Much of this season's work will be in the uptown/downtown area.
With the Big River ethanol plant located nearby, there's plenty of truck traffic through the heart of the city, close to 7,000 crossings a day at the two railroad crossings, Volkert said. "They take a pretty good beating," he said.

Building from within
Volkert knows landing a 300- to 350-employee factory is probably not on the horizon. He's a believer in growing what you have.

"We're (Volkert and City Administrator David Dyer) going to go out and talk to every business in town two or three times a year," he said, and ask what the city can do to help them grow.

He's interested in solar energy, if the opportunity presents itself. There are already a number of wind turbines in the Galva/Bishop Hill area.
"We're getting 29 more wind turbines out north (of town)," Volkert said. "That (money) will go to the schools," which, in turn, will help the community.

"You just do the best you can to improve things," he said. "We've had some fantastic volunteer groups. Hopefully in the next four years, we can get some positive things done."