Beans & Boggles a delightful boutique
By Jim Nowlan
[email protected]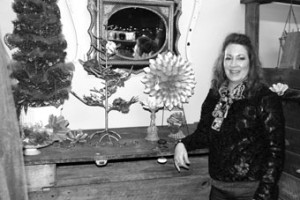 The new Beans & Boggles boutique in downtown Wyoming does kind of boggle the mind with its surprising variety of vintage-inspired apparel, chocolates, coffee beans (of course), delicate paper flowers, jewelry, essential oils, quilts, Wind & Willow mixes, decorative items for the home, and much more.

And that boggling was just what proprietor Tanya Hayes had in mind for her clever store, so she included the word in its name.
I visited with Tanya recently and was quickly taken by her comfortable, laid-back and open personality.

"I'm in a place in my life with my family that I could step out of the box and follow my dream," Tanya explained. "I'm happiest as my own boss, and I have a lot of support from my husband (Jack) and mom."

After 15 years as a beautician and almost as many years in retail and customer service, the small-town girl from DePue in LaSalle County appears to take great satisfaction from bringing together in her store, items that she likes and believes her customers will like as well.

Beans & Boggles also has an open doorway to the New and Wee-cycled store as well as to Lori Hartz's Pin Cushion shop, which are all part of the same large 19th Century building at the main intersection in Wyoming.

"You might say we have a kind of mini-mall," says Tanya with a smile.
The store's apparel is from companies such as Noelle and Coco & Carmen. (See photo nearby.)

Tanya receives her coffee beans from a roaster in Ottawa, Illinois, whose coffee she has long enjoyed, and her essential oils are from Doterra and Maleleuca.

Essentials oils classes this month
Tanya will be offering free classes this month in the secrets, pleasures and well-being derived from essential oils.

The one-hour classes will be presented Sunday, Jan. 17 at 2 o'clock; Monday, Jan. 25 at 6:30 p.m., and Sunday, Jan. 31 from 2 to 3 o'clock.

For more information, call her at 222-2320. You can also check out Beans & Boggles on Facebook and on Google.

Tanya lives in Toulon with husband Jack. She has a 14-year-old son and step-son of the same age at home and a 20-year-old daughter and one granddaughter.