LaFayette to pay the Browns $20,000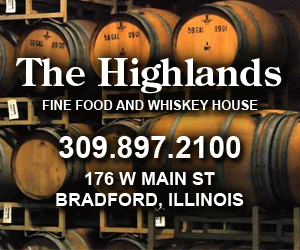 By John A. Ballentine
[email protected]

According to attorney Justin Raver, of Barash & Everett, a four and one-half year lawsuit concluded November 2 with a mediation settlement between the Village of LaFayette and defendants Jerod and wife Dana Brown, of rural Galva.
The mediation agreement has the village paying farmers Jerod and Dana Brown $20,000 for damages and legal fees they incurred as a result of the lawsuit. This amount does not include LaFayette's expenditures for village attorney David Cover.

The lawsuit put the village's right to regulate activity within its borders against farming rights. What spurred the lawsuit was the Browns' intention to farm 57 acres of ground they purchased in 2011 at auction, of the former LaFayette Nursery land.

Six acres of the Browns' land extended into the Village of LaFayette. On April 2, 2012 the LaFayette board of trustees enforced a newly passed ordinance prohibiting commercial farming within the village's borders.

The Browns planted the six acres on May 22, 2012 and then received from LaFayette on June 1 a notice to abate. LaFayette then filed a complaint in court against the Browns on June 6.

In the Tenth Circuit Court of Illinois, Circuit Judge Scott Shore ruled in favor of LaFayette, but stipulated the Browns could complete the farming process of 2012 because the notice to abate was sent to the Browns after they had planted their crop.

The Browns appealed the Circuit Court's decision to the Third District Appellate Court of Illinois. There, two of three justices reversed the Circuit Court's ruling.

LaFayette appealed that decision to the Illinois Supreme Court where the high court rejected hearing the case. Therefore, the Appellate Court ruling was final in the lawsuit.

The Browns then filed in Circuit Court for approximately $39,000 in damages and legal fees, in 2015. Attempts between the Browns and LaFayette led to the mediation process.

The News has filed on October 27 a Freedom of Information Act (FOIA) with the village, to which there has been no response. The FOIA requested LaFayette's expenditures for their village attorney legal fees.

A copy of the FOIA was sent again on November 4 and once more there has been no response within the five day period the village has to by law respond.