New & Weecycled comes under new management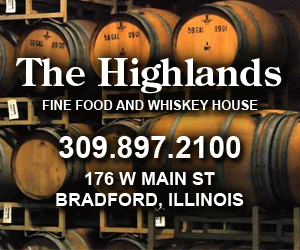 By John A. Ballentine

Lisa Williams has assumed ownership of the Wyoming based New & Weecycled business located at 101 North Seventh Street. Williams takes over the reins from Alyssa (Hartz) Jones at the clothing and toy store, which sells consignment goods and store-owned articles for young people.

"I have looked into opening a [similar] shop a few years ago, but due to medical issues, I was unable to do so at that time," Lisa explained. "So, I was already interested in this when Alyssa wanted someone to take over the business instead of closing it."

Lisa continued, "It seemed perfect to take over from her, instead of starting a new one of my own. This store needed to stay open because it really helps a lot of people out."

Lisa brings with her, business experiences of being a manager of two different phone stores, Illinois Valley Cellular and a Kewanee Sprint location.

"I have worked with the public before. My aunt had a shop in Bishop Hill, Miss B's Treasures, and I worked for her there. That store sold antiques and similar items," Lisa stated.




New & Weecycled does business by accepting donations of items and through consignment of products. Consignment is based upon 60 percent of a sale received by the owner and 40 percent is received by the store.

"I'm going to expand into the back room of the building and add older kids' school clothes going through high schoolers, so it covers them, as well as the younger kids," Lisa said. The Pin Cushion business has relocated from the back of the building to the home of owner Lorie Hartz, of rural Wyoming.

"My customers are from Stark County, but there are a lot of people from the region who come to shop here. They are anywhere from two hours away," Lisa added in describing her customer base.

Lisa spoke about advertising, "I'll be advertising on FaceBook, so that will reach a large area for customers. Besides the clothing, there will be new boutique items for sale, which helps bring customers into the store." In the near future, Lisa plans on advertising in local newspapers, as well.

The boutique portion of the business will include new and "weecycled" items for sale. Clothes, shoes, some jewelry, headbands, et cetera will be the new items. "Weecycled" items will be anything child related, such as toys, books, games, movies, and baby furniture.

Lisa attended Stark County schools, but graduated from Orion High School, in 2005, after her family moved to Andover, Illinois. She and husband Patrick Plain live in Princeville. Patrick works at FCA, in Princeville. They manufacturer crates and pallets for Caterpillar and other businesses.

The store hours are Monday through Friday from 10 to 5 p.m. and Saturdays from 10 to 3 p.m. The store's phone number is 309-883-3224. Lisa hinted, "Those hours may change in the future according to customers' needs."