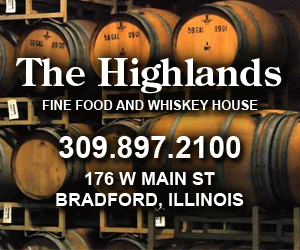 Wyoming Lions present annual awards
The Wyoming Lions Club recently presented their annual awards.  Mike Finnegan was awarded the Lion Joe Colgan Community Champion.  The award is named after Lion Colgan who was a charter member of the Wyoming Lions Club and was a local business owner and was very involved in the community.  Finnegan was presented the award for his many years of service to the community.  In particular, his volunteering and dedication to activities for the youth of the community has benefited many.

Lion Bob Meaker was awarded the Lion John Wake PDG Lions Roar award.  Wake was a member of the Wyoming Lions Club for many years and served as the District Governor for the area.  Meaker has been a member of the Lions since 1950 and has been active in many projects over the years including chairing many events and servicing on the board.  Meaker continues to regularly attend meetings and assists on both for fundraising events and community improvement projects.
The Toulon Lions recently received a bequest of more than $135,000 from the estates of Jim and Dale Swank, of West Jersey. The club voted to distribute the money to several organizations serving Toulon and Stark County, as follows: $35,000 to the athletic facilities fund drive for Stark 100 schools; $35,000 to build a concession stand at the ball diamonds via the Toulon Civic Association; $15,000 for scholarships; $15,000 to the Stark County Fine Arts Network; $10,000 to Lions Clubs International, and $15,000 has gone into a reserve fund for future awards. This photo shows Lion John Leezer, left, and Lion Bob Mueller, center, with a representative of the Stark County Fine Arts organization, Angie Roark.
Mike Finnegan (left) and Lion Bob Meaker (right).
Toulon Fire Chief Andy Colgan, left and First Asst. Chief, Joe Rediger, right, accept a check from Bob Mueller and Doug Parrott of the Toulon Lions Club on behalf of the Swank Estate.
Kelly Smith, Penny Warren, Marlene Nelson and Doug Parrott accept a check on behalf of the Toulon Civic Association from Lion Bob Mueller.
The LaFayette Methodist Church held their annual roast chicken dinner on Saturday at the church's Faith Hall. Approximately 120 dinners were served during the two-hour event.