Fatal crash on Rt. 17 claims driver's life Thursday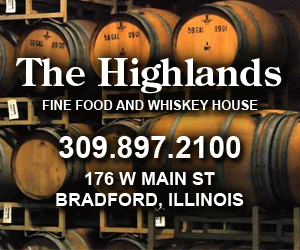 By John A. Ballentine
According to a press release from the Stark County Sheriff's Office, on May 18, 2017 at 2:25 p.m. the Stark County Sheriff's Office received a call of a two vehicle head-on crash on Rt. 17 just east of Wyoming, IL, near the turnoff to FMC.
Upon arriving at the scene Sheriff's Deputies Dustin Schaill and Derek Hendrick found a 2015 Ford with
two people in it, passenger Joann J. McGinn, 82, and her husband, driver Gerald Patrick McGinn, 84, of 105 N. Third Street, Wyoming, IL.
Gerald McGinn was pronounced dead at the scene at 3:34 p.m. by Stark County Coroner/Sheriff Steven V. Sloan.
Also, a 2002 Freightliner Semi from Kraft Fertilizer, Inc., of Princeville, IL, driven by James Evan Gerard, 45, of 221 East Prairie Ave., Toulon, IL was headed east from Wyoming while the McGinn vehicle was headed westbound on Route 17 when the two vehicles crashed into one another.
The families have been contacted at this time and the crash remains under investigation by the Stark County Sheriff's Office and Accident Reconstruction Officer Tim Bryner, of the Kewanee police Department.