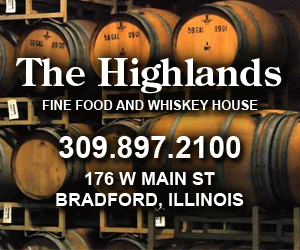 Henry Summer Festival next week
The 8th Annual Henry Summer Festival will be held on August 11 from 9 a.m.-3 p.m. Be sure and stop by Central Park and see everything that the Summer Festival has to offer. This year we have over 80 vendors so there will be a large variety of booths ranging from fruits and vegetables, homemade wood items, crafts, antiques, bake sales, health and wellness products and everything else you can think of.

If you are not in the mood to shop, stop by Central Park in Henry Illinois, for lunch, there will be a great variety. If you are in the mood for pizza, stop by and visit The Backyard Party Guys. Castaways will be serving burgers, walking tacos, chili cheese dogs and Italian beef as well as salads, sides and drinks. The Meeting Place will be serving pulled pork sandwiches, pork chops, brats and hot dogs. Webb food stand will have corn dogs, funnel cakes and lemon shake-ups. Thompson Family Vending will have cotton candy, snow cones, deep fried s'mores, ice cream and homemade waffle cones. 

On the entertainment side of things, returning to the stage will be Daniel Watkins from 9 to 10 a.m., The Lizzi & Dave Neal Acoustic Duo will be performing from 10:30 a.m. – 12:30 p.m., Dance Central will be performing from 12:45 – 1:15 p.m.,  Tyler Duckworth will also be entertaining this year from 1:30 – 3 p.m.

 
Not only will there be entertainment on stage, but from 10 a.m.-12 p.m. you will find The Unique Twist creating balloon characters of your choice in the center of the park, so be sure to stop by and get your balloon.

Mark your calendars for this event, located in Central Park in Henry. If you like to shop, listen to good music and eat great food, then be sure to stop by this year's Henry Summer Festival on August 11.